SatelliteSkill5 is a free augmented reality app designed to:
Introduce students to: Space, Satellites, and Survey Data.
Helping students to understand how and why this data is important.
Unlock free real-world datasets to help in their projects.
Empowering students to solve problems in their community and contribute to reaching the UNs Sustainable Development Goals.
SatelliteSkill5 provides an fun, interactive and immersive set of challenges where students can explore these complex topics in an intuative, selfpaced, self taught learning environment.
There is a large amount of complex information about Ireland that is collected daily, weekly and annually. This information is extremely useful in helping to solve challenging problems that affect life in Ireland. However, it can be quite difficult for students to know where to begin when it comes to: what type of data is available? What data is needed? Where to find it? How to use it to solve tricky environmental and other real world problems? This app will give the students a way to answer these questions and become critical thinkers and independent learners.
How can it help the students?
Students will find the answers to these questions through an interactive Augmented Reality experience that will bring these complex data sets into the real world. They complete fun and interactive challenges that will then unlock a related data set that they can then use to complete school projects.
The app is organised around the 14 Global Fundamental Geospatial Data Themes (GGIMs) that the United Nations have listed as ways to help address their Sustainable Development Goals (SDGS). We have put together an all Ireland data set for each GGIM that the student will be able to access online via the powerful ArcGIS Online for Schools platform.
For example: A student has a project where they need to come up with a solution to stop a river flooding in their community. Using this app, they select the flooding challenge. Here they are introduced to how flooding data is mapped via radar from a Copernicus satellite. With it they can visualise how and where flooding can be identified from the data. Then they complete an interactive AR challenge where they must identify which buildings were flooded. Once finished they will unlock a flooding data set of Ireland that they can access free on ArcGIS online. They will be able to use this to carry out their project.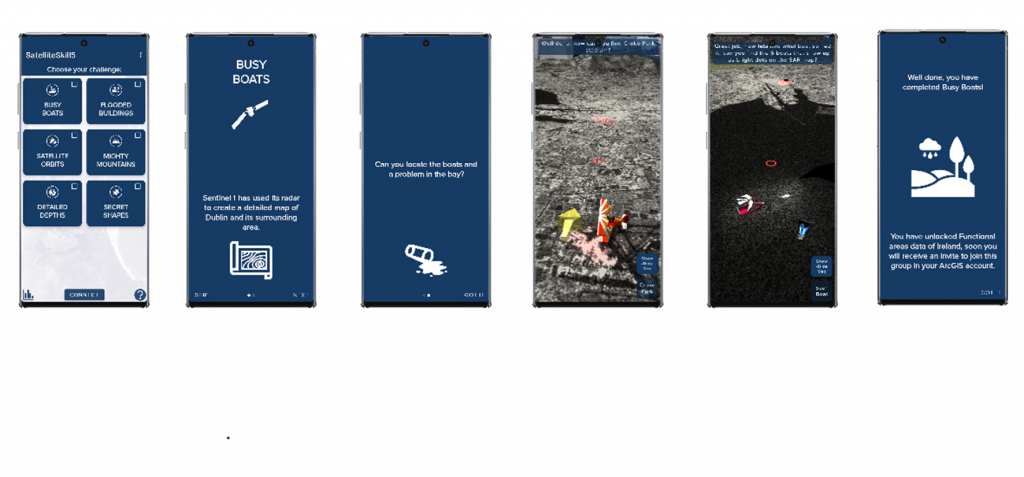 Within the SatelliteSkill5 application, educators have the option of a Teachers Mode. Teachers and educators can register using their email addresses and subsequently, they are issued a unique four-digit code which can be distributed to their students who intern enter it into their version of the app. The students then engage with the app's challenges, after which the the teacher gains access to a detailed report encompassing metrics on their students' performance within the application. This report includes insights on the time allocated to each section and outlines the acquired knowledge.
Augmented Reality is a way of bringing digital experiences into the real world, providing a new of level of interaction with the world around us. Traditionally, virtual and augmented reality experiences have relied on large and expensive rigs. In the last few years new open source software, combined with the increased popularity of smart phones, has made AR and VR experiences more accessible and easier to use.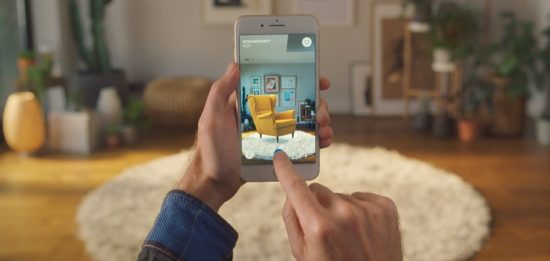 This app harnesses this new technology to build a new type of educational platform that allows for the exploration of traditional 2D data maps into a 3D environment that the students can explore anywhere. Combined with interactive challenges, students can quickly gain an insight into how different geospatial information affects the world around us.
The app fosters self paced learning in a fun, novel way that allows the student to gain knowledge of complex information.
Global Fundamental Geospatial Data Themes & Sustainable Development Goals:
The 14 GGIM's are 14 data themes that help us to understand how different geospatial information is important for solving challenges that affect life in Ireland. They address the Sustainable Development Goals that Ireland is committed to.
For example: the 'Addresses' data theme covers geographical data related to all buildings in Ireland. It would help identify priority areas for the roll-out of faster internet infrastructure. This would help towards SDG 4 "Quality Education" by ensuring that wherever people live they can have easy access to quality online educational materials.
Below are the 14 GGIM's and the SDGs:
By building our app around these themes, students will gain an excellent understanding of what types of geospatial information is out there and be empowered to go solve the challenges in their communities.  
ArcGIS for Schools & Esri Ireland:
Esri Ireland provides free access to their ArcGIS mapping platform to every school in Ireland. This powerful web-based software, allows users to visualise and analyse complex data and gain insights into problems that they want to solve. Once users complete a challenge in the app, students will unlock the related data set in their ArcGIS account that they will then be able to use to carry out their specific project. These unlocked data sets will contain related geospatial data for all of Ireland and give them enough information to be able to propose meaningful solutions in their projects.
Students will be able to learn about the data, how it is collected and why is it useful through the mobile AR experience in the app and then continue their project investigations through using the ArcGIS platform on their computers.